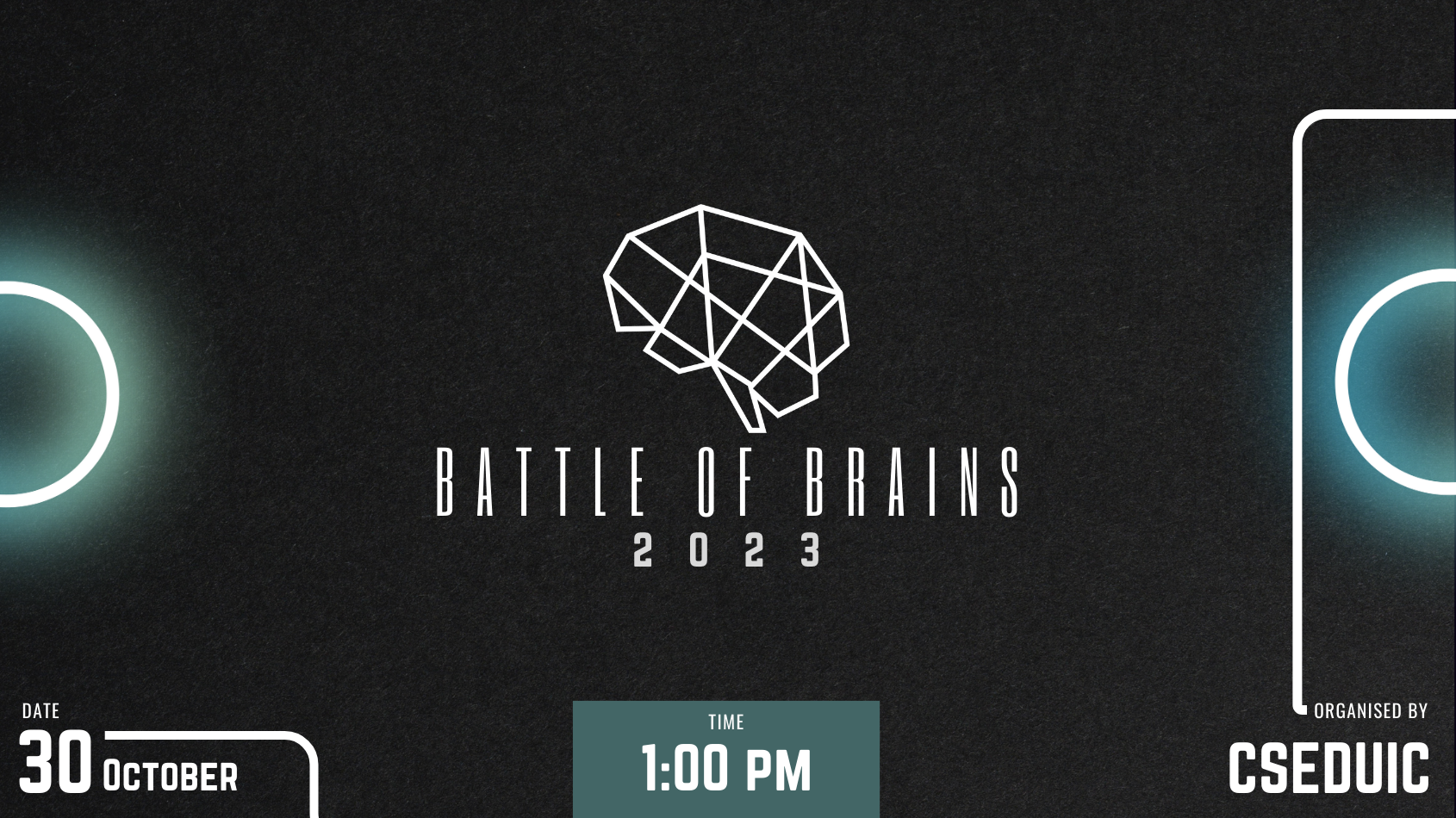 Battle of Brains 2023 Mock, University of Dhaka
The "Battle of Brains" is here, and it's the ultimate test of your programming mettle! Our intra-university programming contest welcomes participants from all corners of the campus to compete in this thrilling battle of wits.
In the "Battle of Brains," you'll face a series of challenging problems that will push your coding and problem-solving abilities to the limit. It's not just a contest; it's a chance to prove your skills and showcase your talent. Whether you're a seasoned coding veteran or a newcomer to competitive programming, this is your opportunity to shine.
Step onto the battlefield, demonstrate your programming prowess and strive for glory as you solve complex problems and conquer the coding challenges that await. The "Battle of Brains" is where legends are made, and where your dedication and intelligence will be celebrated.
Are you ready to compete, innovate, and emerge as a true coding champion? Join us for the "Battle of Brains" and write your own chapter in the annals of programming excellence.
Schedule
The contest started on October 29, 2023 at 2:35 PM UTC and ran for 2 hours.
Authors
The authors of this contest are AdilOlin, boringtofu, ludirm, and yeamin_kaiser.
Rules
This contest is formatted as per the official rules of ICPC Regional Programming Contests. See details...
You can use C++11 GCC 7.4, C++14 GCC 8.3, C++17 GCC 9.2, C++20 Clang 16.0, and 9 other programming languages C++20 GCC 12.1, C11 GCC 12.1, C11 GCC 9.2, Java 1.8, PyPy 7.1 (2.7), PyPy 7.1 (3.6), Python 2.7, Python 3.11, and Python 3.7 in this contest.
Be fair, be honest. Plagiarism will result in disqualification. Judges' decisions will be final.
This contest has ended.