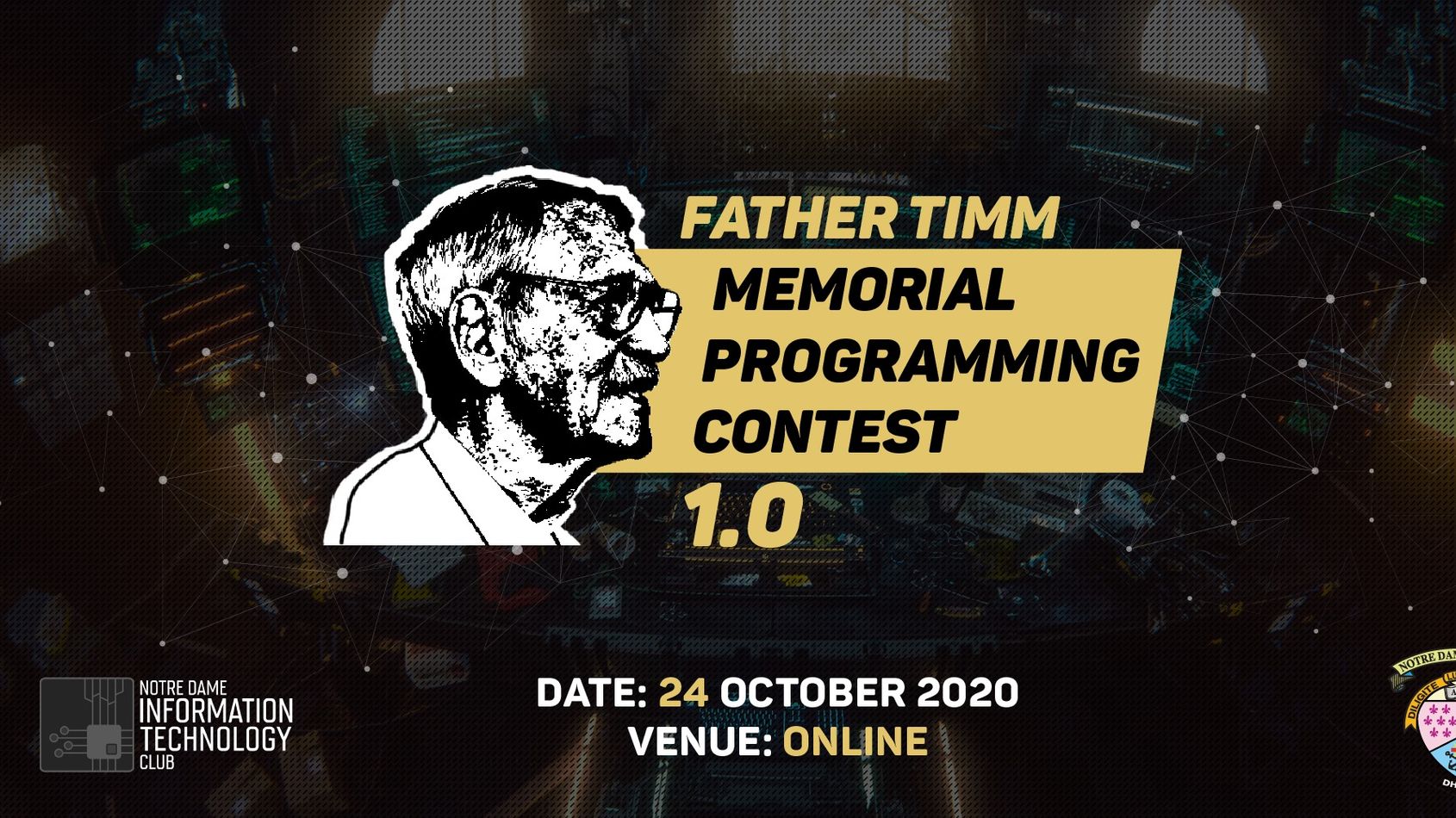 Father Timm Memorial Programming Contest 1.0
In this COVID-19 pandemic, behold the largest online programming competition in the country presented by Notre Dame Information Technology Club. We have brought to you a flagship programming contest which will be held annually from now on. In memory of Father Richard William Timm, presenting "Father Timm Memorial Programming Contest 1.0" to be held for the first time this October.

Father Timm (1923 – 2020) was one of the founding members of Notre Dame College, Dhaka, and our respected 6th principal. Father Timm not only helped Bangladesh by his writing and relief works at the time of the Liberation war but also was a lifelong friend of Bangladesh contributing to her development in whatever ways he could. Besides his social work, he had an excellent scholarly mind. As a biologist, he had done extensive research works in taxonomy and discovered over 250 species. Father Timm is also the founder of the debate and science club of Notre Dame College, the firsts in the country. Through this competition, we will remember him every year for his immense contributions to Science, Notre Dame College and Bangladesh.

Rules & Regulations:
• All students from schools and colleges(including HSC batch-2020) and corresponding institutions such as polytechnic institutes(4th year and below) are eligible to participate.
•Participants have to participate individually.
•The Contest will follow the IOI format.
•Participants can use only C, C++ or Python programming language.
•The contest platform will be "Toph".
•Participants have to participate in the contest using the custom handle.
•Custom handles will be given to participants via email.
•The contest will last for 4 hours.

Plagiarism issues:
Since it will be an online contest, third-party codes that were written or available online before the start of the contest can be used, but it may lead to confusion if more than one participant uses the same template. In that case, the decision of the judges will be considered. Apart from that, if a person is caught cheating by providing/taking code from others, then they will be banned from the contest.

Registration link: https://ftmpc.nditc.org

For any queries, please contact us through our Facebook page:
https://www.facebook.com/nditc.official
or mail us at info@nditc.org
or post any questions at our forum (https://community.nditc.org/thread-category/forum/)

Chowdhury Isfatul Karim
President (Programming)
+8801829369933

Fahim Murshed Rabby
President (Administration)
+8801731767903

Hrithik Deb
President (Archive, Workshop and Seminars)
+8801776433543

Schedule
This contest has ended. It had started on October 24, 2020 at 4:00 AM UTC and ran for 4 hours.
Rules
You can use C++11 GCC 7.4, C++14 GCC 8.3, C++17 GCC 9.2, C11 GCC 9.2, and 5 other programming languages PyPy 7.1 (2.7), PyPy 7.1 (3.6), Python 2.7, Python 3.7, and Python 3.8 in this contest.
Be fair, be honest. Plagiarism will result in disqualification. Judges' decisions will be final.