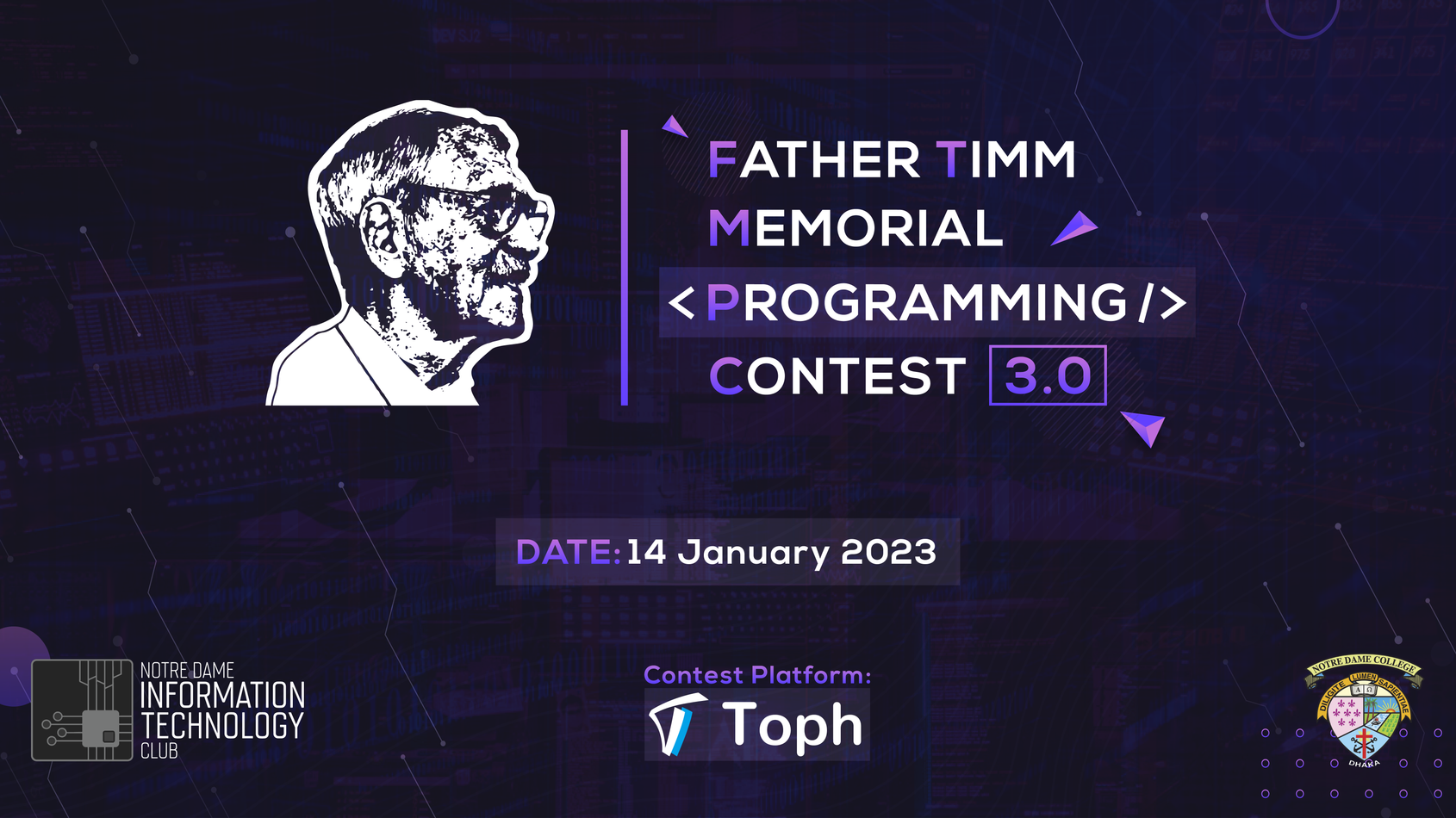 Father Timm Memorial Programming Contest 3.0
Keeping up with the ever progressing technological world and with a view to equipping the youth of this nation with the skills necessary to compete in the IT field, Notre Dame Information Technology Club presents its annual national programming contest FTMPC 3.0 or Father Timm Memorial Programming Contest 3.0, which is the sequel of FTMPC 2.0, the seminal national contest held in 2021. This sequel is expected to be another groundbreaking installment in the FTMPC series.
The contest has been named so in honor of Father Richard William Timm (1923 – 2020) who was one of the founding members of Notre Dame College, Dhaka, and our revered 6th principal. Father Timm is noteworthy for his writings and relief works supporting Bangladesh in the Liberation war along with his excellently scholarly mind, especially as a biologist. This Ramon Magsaysay Award winner and the discoverer of over 250 species is the founder of the renowned clubs of Notre Dame College which are the pioneering clubs in the country. In reverence to his memories, NDITC hosts its annual programming contest in his name.This sequel is going to bring a whole new dimension to the society of competitive programming.
Prizes
Be ready because we are the first club in the whole Bangladesh giving out real, I repeat AUTHENTIC GOLD, SILVER and BRONZE medals in school and college level programming contests. Each winner will get crests and certificates. To our Fabulous 3 CA's, crests and certificates will be provided. And for everyone who will participate, they will get participation certificates.
Schedule
The contest started on January 14, 2023 at 9:10 AM UTC and ran for 4 hours.
Authors
The authors of this contest are Aashiq, adnan_toky, fsshakkhor, Nirjhor, and Saom.green.
Rules
Since it will be an online contest, third-party codes that were written or available online before the start of the contest can be used, but it may lead to confusion if more than one participant uses the same template. In that case, the decision of the judges will be considered. Apart from that, if a person is caught cheating by providing/taking code from others, then they will be DISQUALIFIED from the contest immediately.
You can use C++11 GCC 7.4, C++14 GCC 8.3, C++17 GCC 9.2, C++20 GCC 12.1, and 5 other programming languages C11 GCC 12.1, PyPy 7.1 (2.7), PyPy 7.1 (3.6), Python 3.11, and Python 3.7 in this contest.
Be fair, be honest. Plagiarism will result in disqualification. Judges' decisions will be final.
This contest has ended.