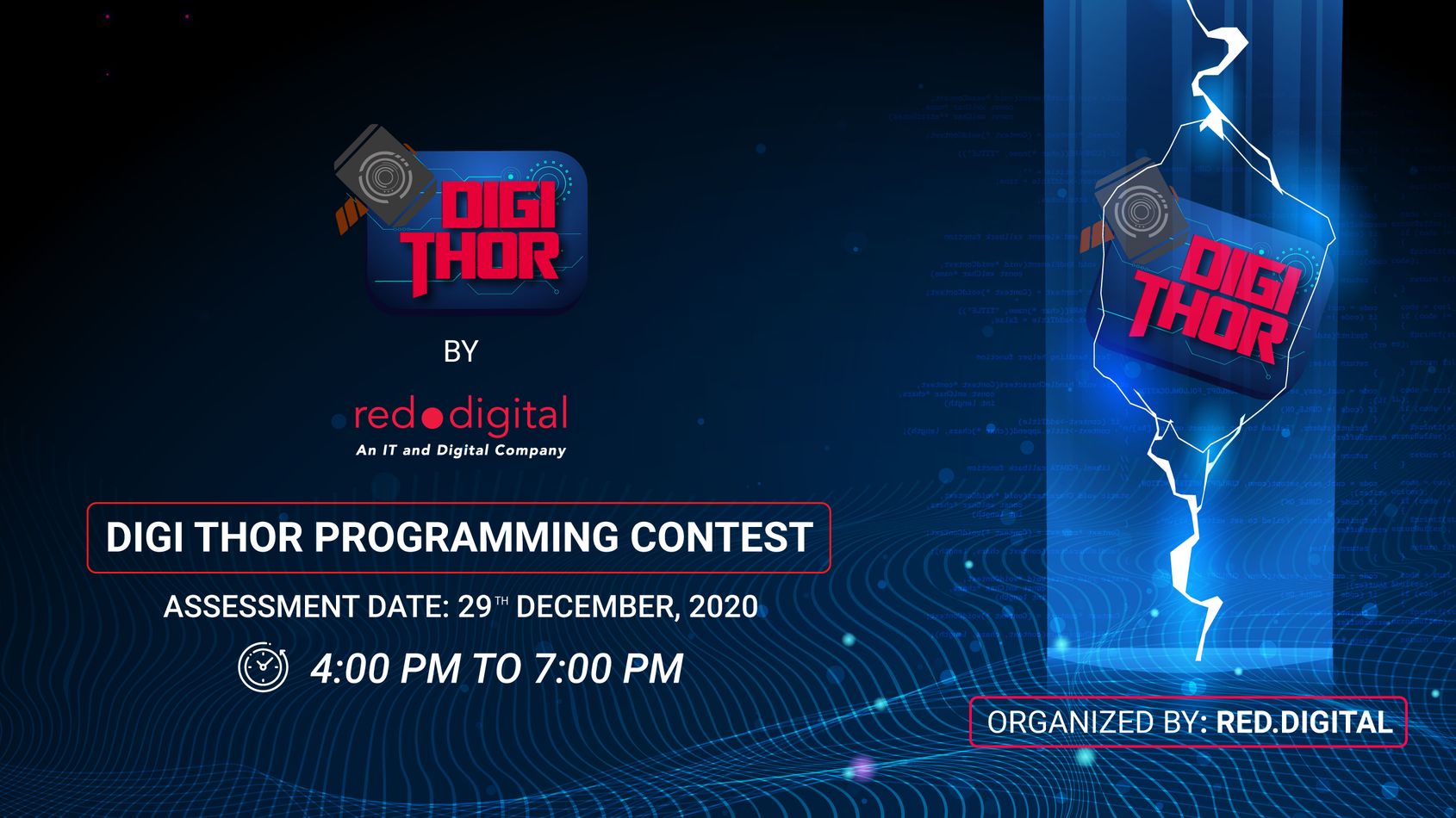 Red.Digital Digi-Thor Programming Contest 2020
Red.Digital Limited is a 100% Robi Axiata owned subsidiary offering IT & digital solutions to Robi Axiata Limited. We aim to support the Government of Bangladesh in meeting its digital goals in the country by offering cutting-edge, home-grown, cost-optimized IT applications, Cloud DC, IoT solutions among others.
Currently, we have several platforms that are developed completely in-house with complete IPR ownership. We envision to extend our business beyond the boundary. With the mission of establishing a full range of dynamic changes with quality products and services, we have launched our first programming contest Digi-Thor. Thus, we are encouraging young engineers to assess their programing skills and be a part of our team. Also, we aim to provide a sneak peek into the corporate world and exposure to a leading digital company.
Schedule
This contest has ended. It had started on December 29, 2020 at 10:00 AM UTC and ran for 3 hours.
Rules
This contest is formatted as per the official rules of ICPC Regional Programming Contests. See details...
You can use Bash 5.0, Brainf*ck, C# Mono 6.0, C++11 GCC 7.4, and 21 other programming languages C++14 GCC 8.3, C++17 GCC 9.2, C11 GCC 9.2, Common Lisp SBCL 2.0, Erlang 22.3, Free Pascal 3.0, Go 1.13, Haskell 8.6, Java 1.8, Kotlin 1.1, Node.js 10.16, Perl 5.30, PHP 7.2, PyPy 7.1 (2.7), PyPy 7.1 (3.6), Python 2.7, Python 3.7, Python 3.8, Ruby 2.6, Swift 5.3, and Whitespace in this contest.
Be fair, be honest. Plagiarism will result in disqualification. Judges' decisions will be final.