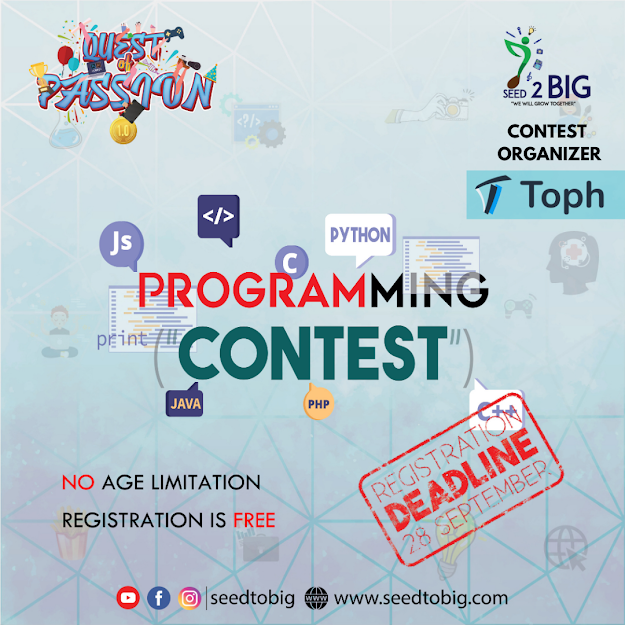 Quest of Passion 1.0 - Hours of Code
Seed To BIG is Presenting one of the biggest Online Fiesta of the year, "Kazi and kazi Tea Quest of Passion 1.0" . Due to pandemic, students are passing time at home by scrolling down social media or doing nothing which will value their time. This is the programming event.
🔸No one will get prizes without registration.
🎁 Rewards:
🎖There will be two Crests and Certificates for School & College going Students.
🎖There will be one Crest and Certificate for University Students.
🎖Every participant will get a Recognition Certificate.
🎖Prize and certificate will courier to the winners
		➡Registration Link: https://cutt.ly/SfashYp 

		➡Last date of Registration : 28 September, 2020 

Schedule
The contest will start on September 30, 2020 at 1:00 PM UTC and will run for 3 hours.
How Do I Participate?
Rules
This contest is formatted as per the official rules of ICPC Regional Programming Contests. See details...
You can use C++11 GCC 7.4, C++14 GCC 8.3, C++17 GCC 9.2, C11 GCC 9.2, and 6 other programming languages Free Pascal 3.0, Java 1.8, Kotlin 1.1, Python 2.7, Python 3.7, and Python 3.8 in this contest.
Be fair, be honest. Plagiarism will result in disqualification. Judges' decisions will be final.
Starts in 3d