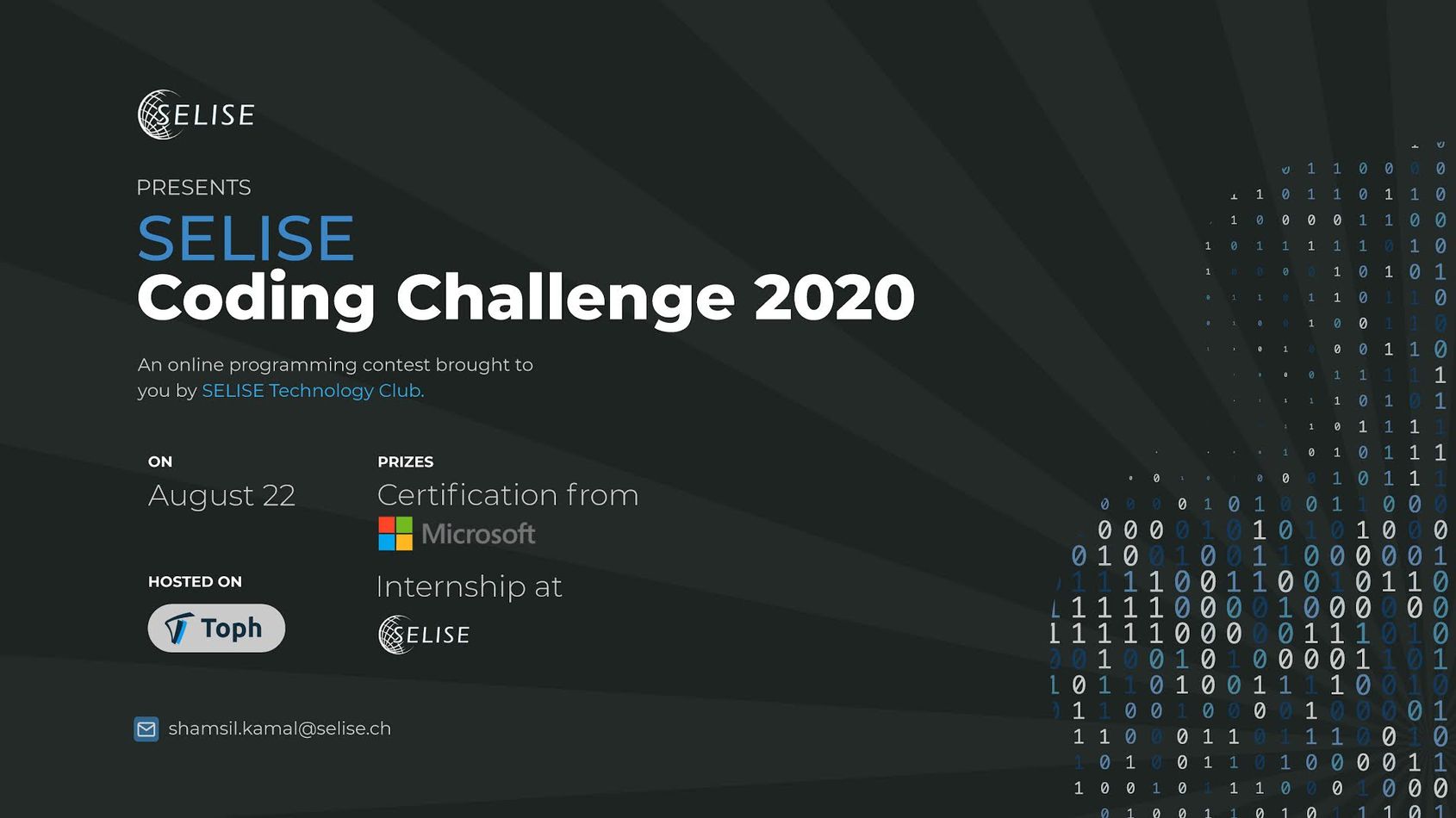 SELISE Coding Challenge 2020
Please fill up the Google form here ( https://rb.gy/m09run ) so we can reach out to you in the future & click on the sign-up button to participate in the contest! Registration closes at 11:59 PM, August 21.
Prizes
For our top 3 performers:
| First Prize | Second Prize | Third Prize |
| --- | --- | --- |
| BDT 15,000 | BDT 10,000 | BDT 5,000 |
For our top 5 performers:
An internship opportunity at SELISE, with the possibility of fast-tracking into recruitment in the future!
The top 10 performers will receive an attractive gift basket with a SELISE souvenir.
The top 30 performers will win an exam voucher for the Microsoft AZ900 exam, held under Microsoft Enterprise Skilled Initiatives (ESI) program, and achieve certification!
Aside from that, they will receive counseling and guidance on future career paths from the senior software engineers of SELISE.
Schedule
This contest has ended. It had started on August 22, 2020 at 9:00 AM UTC and ran for 4 hours 30 minutes.
Authors
The authors of this contest are aLmAHFUz, Amateur, amin21, Anubis, kawsarahmd, mamunor.rashid, oorpib, Raihanur_R, rashid46, robin_aust, sarwarIT, and subhashis_cse.
Rules
This contest is formatted as per the official rules of ICPC Regional Programming Contests. See details...
You can use Bash 5.0, Brainf*ck, C# Mono 6.0, C++11 GCC 7.4, and 19 other programming languages C++14 GCC 8.3, C++17 GCC 9.2, C11 GCC 9.2, Common Lisp SBCL 2.0, Erlang 22.3, Free Pascal 3.0, Go 1.13, Haskell 8.6, Java 1.8, Kotlin 1.1, Node.js 10.16, Perl 5.30, PHP 7.2, PyPy 7.1 (2.7), PyPy 7.1 (3.6), Python 2.7, Python 3.7, Ruby 2.6, and Whitespace in this contest.
Be fair, be honest. Plagiarism will result in disqualification. Judges' decisions will be final.