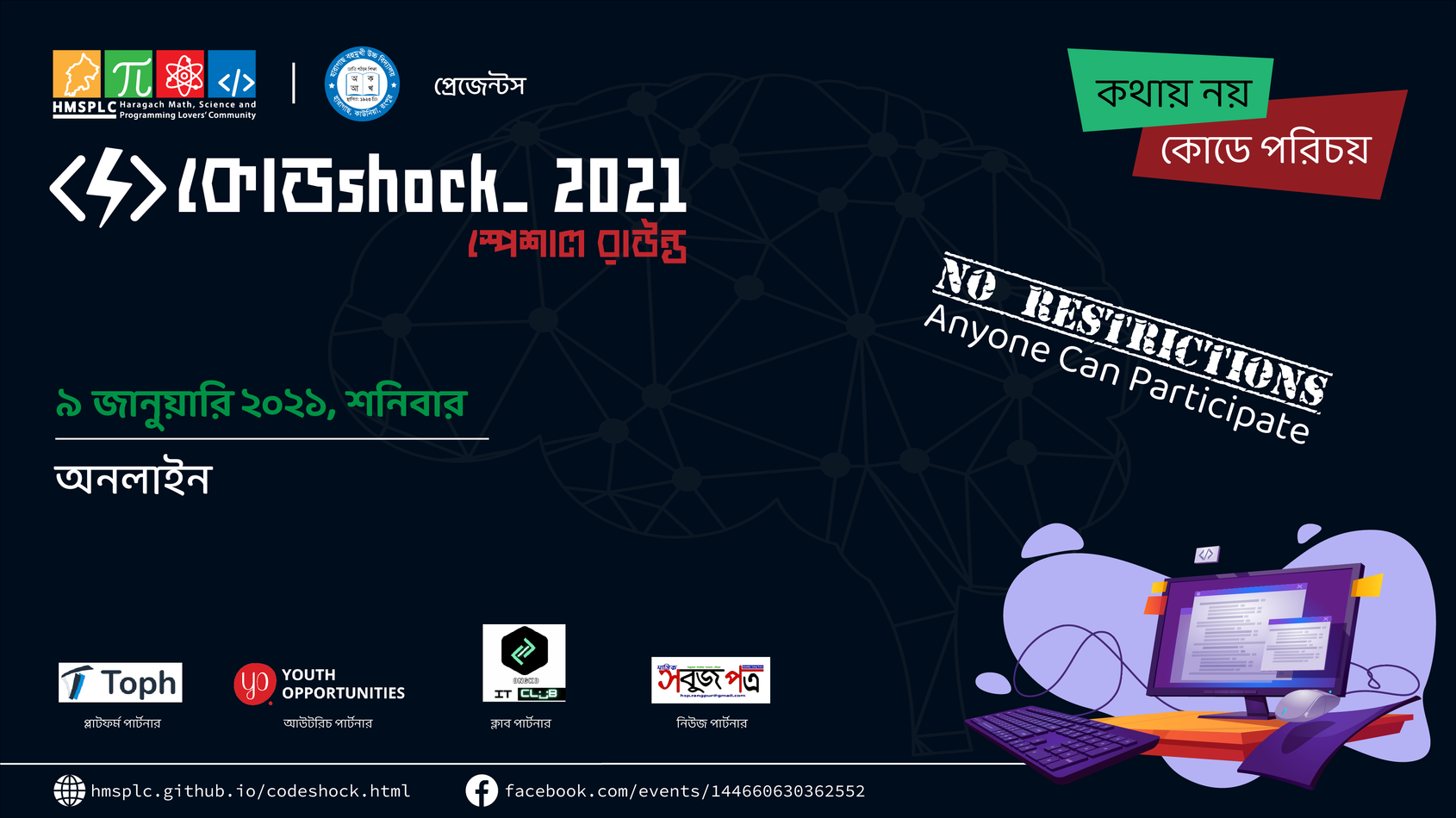 কোডshock_ 2021 (Special Round)
The third edition of the কোডshock_ programming contest is going to be organized under the theme "কথায় নয়, কোডে পরিচয়" in 2021. This year's contest will be organized grandly. The organizer of this event is Haragach Math, Science and Programming Lovers' Community and the host of the onsite round is Haragach Multilateral High School. Toph is going to be the judging platform of the contest as always. Also Youth Opportunities, Ongko IT Club and Monthly Sobuj Potro will act as an outreach partner, club partner and news partner respectively.
This contest is being organized since 2019 for testing the programming skills of the students of Bangladesh. The first contest was held in 2019, in a short extent. About 325 students of the country took part in the contest. In 2020, the organizers were thinking to organize it in a grand way. But then Corona started to spread. Keeping this epidemic situation in mind, the contest of 2020 was taken online, in which about 389 students took part. Now the outbreak of corona has decreased a bit in Bangladesh. So now the contest will be organized grandly at the beginning of 2021.
To register for this round (which will be held online), you have to pay 25TK through bKash. Also, a form has to be filled online https://forms.gle/ViSLrWCZjLzwQzZ69. Within 72 hours of submitting the form, a confirmation email will be sent along with the credentials of this round.
For more details:-
https://facebook.com/events/144660630362552
Schedule
This contest has ended. It had started on January 9, 2021 at 9:00 AM UTC and ran for 2 hours.
Rules
You can use C++11 GCC 7.4, C++14 GCC 8.3, C++17 GCC 9.2, C11 GCC 9.2, and 4 other programming languages Java 1.8, Python 2.7, Python 3.7, and Python 3.8 in this contest.
Be fair, be honest. Plagiarism will result in disqualification. Judges' decisions will be final.