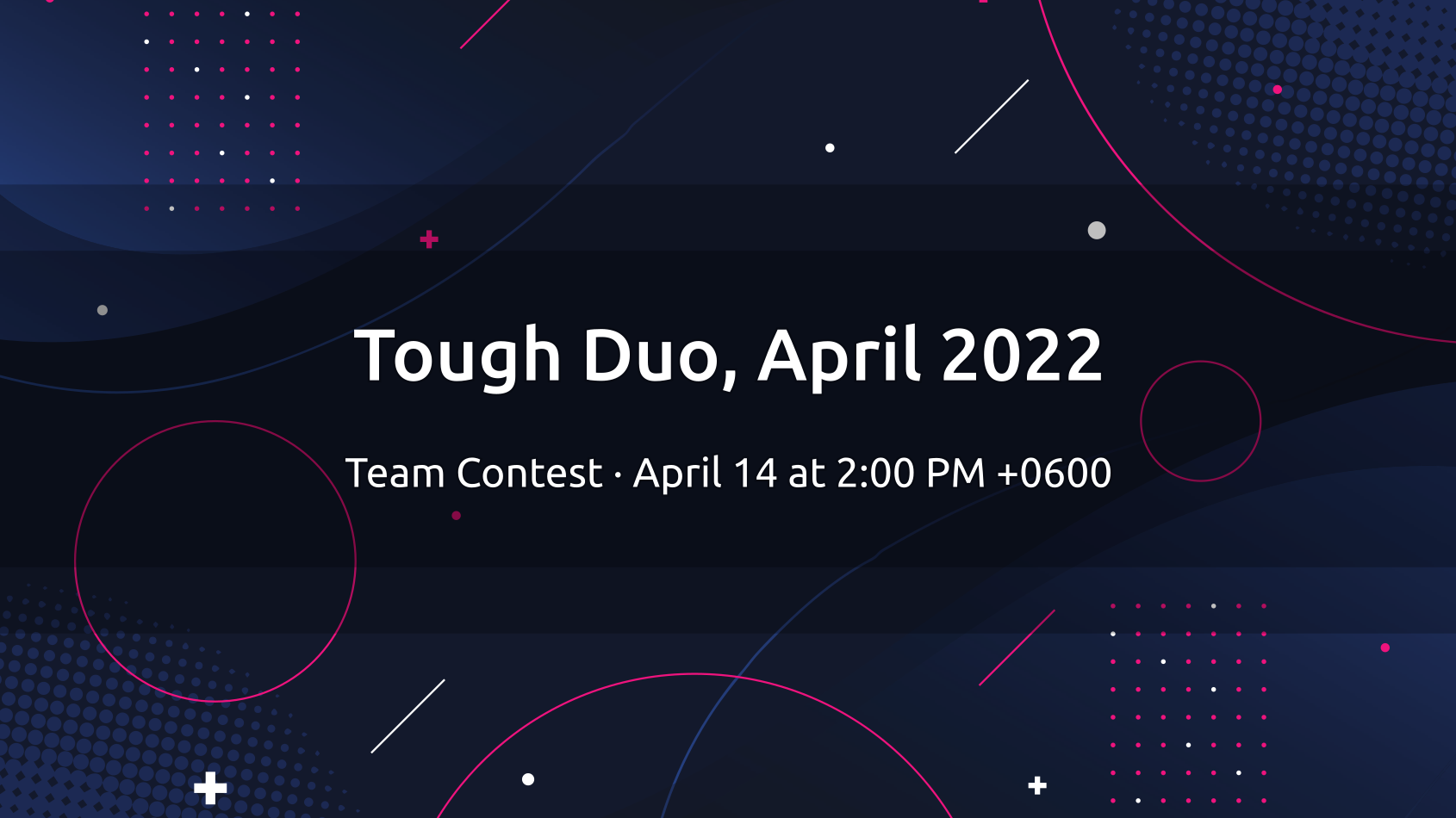 Tough Duo, April 2022
Welcome to Toph's first official team contest.
In this contest, you will have to form a team of 2 members. To sign up, click on the Sign Up button below and enter the following details:
The name of your team

The handle of the other member in your team
And that's it!
See you at the arena!
Prizes
We have prizes for each member of the top three teams.
1st place: Toph goodies and 250 GB Portable SSD

2nd and 3rd place: Toph goodies
Eligibility: At this moment, we can only award prizes to students of Bangladeshi academic institutions and deliver to Bangladeshi addresses.
Schedule
The contest started on April 14, 2022 at 8:00 AM UTC and ran for 3 hours.
Rating
This contest is rated for all participants. Toph uses the Glicko-2 rating system.
Authors
The authors of this contest are adnan_toky, OnikJahanSagor, rifatrraazz, sayeef006, shajia, shefin, Shuvo_Malakar, TarifEzaz, and upobir.
Rules
This contest is formatted as per the official rules of ICPC Regional Programming Contests. See details...
You can use Bash 5.0, Brainf*ck, C# Mono 6.0, C++11 GCC 7.4, and 23 other programming languages C++14 GCC 8.3, C++17 GCC 9.2, C11 GCC 9.2, Common Lisp SBCL 2.0, Erlang 22.3, Free Pascal 3.0, Go 1.18, Haskell 8.6, Java 1.8, Kotlin 1.1, Lua 5.4, Node.js 10.16, Perl 5.30, PHP 7.2, PyPy 7.1 (2.7), PyPy 7.1 (3.6), Python 2.7, Python 3.11, Python 3.7, Ruby 2.7, Rust 1.57, Swift 5.3, and Whitespace in this contest.
Be fair, be honest. Plagiarism will result in disqualification. Judges' decisions will be final.
This contest has ended.