Enormous Product
You are given two integers l and r. You need to find the value of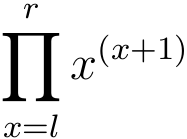 As the value of this equation may be large, you need to find its remainder modulo (109+7).
Input
The first line will contain an integer t(1 ≤ t ≤ 5), the number of test cases.
Each of the next t lines will contain two integers l and r (1 ≤ l ≤ r ≤ 109).
Output
Find the value of the aforementioned product modulo (109+7).
Sample