Showmik is very popular nowadays. Junior coders always seek help from him. He also wants them to improve their skills. So for them he has given a problem which is not too easy and again not too hard. He is generating a tree which has the following properties:
Each node takes 1 second to be created.
Each node will have child nodes. will be equal to (current level + 1).
Each node will be marked with a number starting from left. Number starts with 1.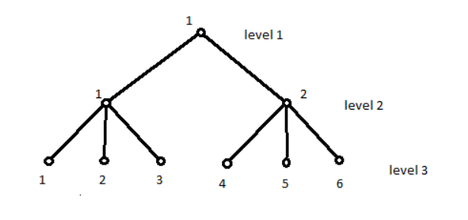 He will give a random number N. They have to find the level number and mark number of the node being created at N-th second.
Input
First line of input contains a single number T (T≤10000). T test cases follows. Each case has a single number N (1≤N≤1016) which indicates the N-th second.
Output
For each test case, print answer as the format "Case x: y z" without quotation. Here, x indicates the case number and y, z indicate the desired results.
Sample
Input
Output

4
5
21
63
1326509874132650

Case 1: 3 2
Case 2: 4 12
Case 3: 5 30
Case 4: 18 948498053512337
Tree is basically a graph which is connected and there is no cycle. There is only one root node and each node may have zero or more child nodes.